TatukGIS Editor 3.0 with 3D Mapping
TatukGIS has released the version 3.0 of its affordable desktop GIS Editor featuring seamless 3D viewing integration. 3D capabilities include presentation of DTM (digital terrain models), 3D vector rendering, automatic draping of image and 2D vector layers over DTM models, flood simulation, light & shadow control, and camera/scene control. An already existing map project can be presented in 3D without any changes. If a DTM exists in an opened project, the map data is automatically draped over the model. Familiar styling capabilities are available in 3D mode as well. Click here to see a quick glimpse of the new 3D functionality.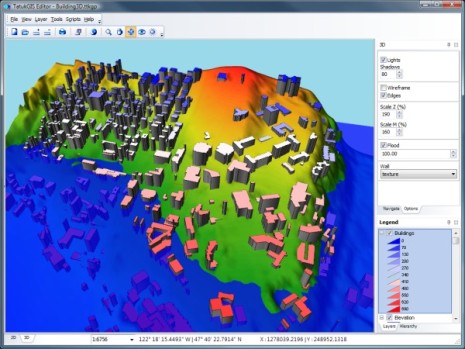 As with other features of the Editor, all the 3D functionality is fully customizable using the Editor's built-in scripting tools. The use of scripts to control the camera angle, lighting, flood simulation, etc. provides for powerful 3D mapping presentations. By fine-tuning the 3D shape properties of existing vector data, a user can extrude unique 3D presentations. See sample video
As is to be expected of a TatukGIS product, the 3D map rendering is extremely fast even with very large data sets and very large individual shapes. The Editor 3.0 also introduces a modified user interface with collapsible panels to maximize application working space.
An Editor 3.0 trial version download and additional product information are available from the TatukGIS web site: www.tatukgis.com. The Editor can be purchased on-line, directly from TatukGIS.
Developer Kernel v.10
TatukGIS will soon offer the version 10 upgrade of the .NET WinForms, ActiveX, and VCL editions of its GIS Developer Kernel (component), with:
The same 3D feature integration as introduced in the Editor 3.0.
Advanced line styling.
Important .NET related enhancements to the DK.NET edition, as discussed in this blog.
Developer Kernel Price Increase
Effective May 10, the price of a DK license will increase from the present $1,990 to $2,490, with a volume price discounting starting at the purchase of a 2nd license. Previously volume discounts started at the 5-license purchase level. At the same time, the price for the annual DK license maintenance renewal will decline from 45% to 40% of the DK license price. For licenses with expired maintenance, however, the renewal of maintenance for a new 12 month period costs 60% of the DK license price, if the purchase is performed within one year after the maintenance expiration date. When performed more than one year after the maintenance expiration date, the price increases to 80% of the current price of a new license.
For those considering the purchase of a new DK license or the renewal of maintenance for an existing DK license, save by performing the purchase before May 10.
Customer News
In the left column of this newsletter appear links to descriptions of DK developed solutions recently shared by TatukGIS customers. Please share your success story with sales@tatukgis.com. We want to know how you are putting TatukGIS products to good use.
Follow TatukGIS
Be the first to receive notifications about product downloads or other important TatukGIS news. Follow us on Facebook or Twitter.
Contact us
Share your comments with sales@tatukgis.com.